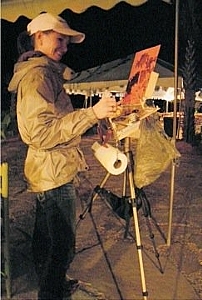 Born in a small German town, Fredericksburg, Texas in 1977, I grew up surrounded by little rolling hills, thorny Mesquite trees and the quirky, twisting shapes of Live Oaks. I decided, when I was about four, that I was going to be an artist when I grew up. I had a very supportive family who recognized and encouraged my interests. I moved to Dubai, United Arab Emirates with my family when I was fifteen and studied with a local watercolorist Pat AlFakhri.
Watercolor is an elusive medium, in my opinion, and did not quite fit me. I played around with acrylics for a few years before moving on to oils in 2004.
Oil painting has been one of the greatest love affairs of my life.

In general, I split my painting time equally between working en plein air, and working in the studio. Plein air painting pushes me to focus on the moment. The lighting outside will have moved completely within a span of three hours, and environmental changes affect shadows and colors and the entire feel of a scene. This means I have to work fast to capture an image that speaks to me. In the studio, I can take my time to go back and tweak colors, add emphasis to areas of interest, or even radically change compositions. I work in a limited palette; Quinacridone red, Ultramarine blue, Cadmium yellow light, and Titanium white. I prime my canvases with a nice bright Cadmium red because I love the way the red pops through. I started using a red ground because I found myself overworking a piece in an attempt to get rid of all the glaring white canvas in between carefully placed brushstrokes.