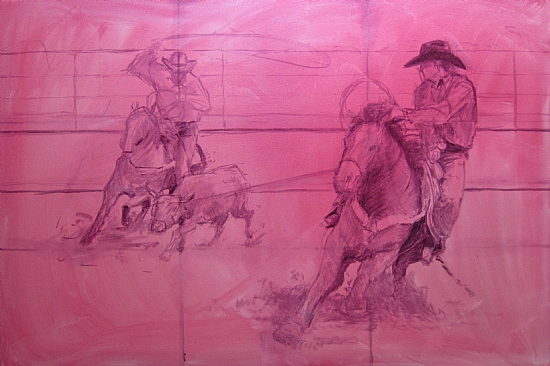 I don't have a title for this one yet...
This is so much fun, I can hardly stand it!!! The sketch still needs some tweaking, but its pretty much in. My references for this piece came from two separate photos (I am pretty sure Nick took them both). The images matched up beautifully. I had taken a shot of the heeler's, guy on the right, team that showed both the header and heeler doing their thing, but my image was way too blurry and the heeler in the photo I used has a much better stance.
Oooo. I just realized that I need to tilt the steer's head just a bit... he looks a little too stationary.
Also thinking about setting the areana wall more at an angle. It's flatlining. Can you hear it? Errrrrrrrrrrrrrrr!
Tomorrow night I will continue adding values, make some changes, and then get crackin' on the really fun stuff--- blocking it in!
Man, I love my job!
Oh! And here's one I sketched out last night and started blocking in this morning.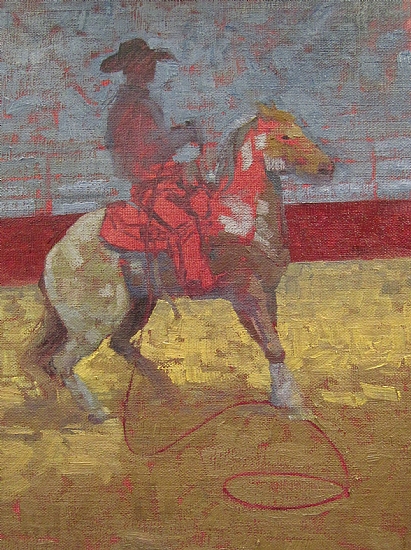 Close Only Counts in Horseshoes and Handgrenades
9x12
He missed. And his horse came to a dead stop!
This piece still needs some adjusting too. The rider's legs seem too short (i didn't see that until I took the photo), and the horse looks a little on the fluffy side instead of the lean mean power machine that it was. With the odd initial brushstrokes goin in at the moment, he looks like a plastic pony! Hahaha!
I'll be interested to see if this one turns out.